"FLY ME TO THE MOON" (by Chief Pilot – Capt Neil Airey)
Astronaut Buzz Aldrin was undertaking a book signing event at Croston Theatre, Westholme School on Thursday 2nd June in Blackburn. We weren't going to miss out on an opportunity to be reunited with this amazing man so Huey509 offered to fly him into the venue – we had previously flown buzz to the starting line at Goodwood Revival in Huey509 in 2009. Buzz said at the time that it's a long time since he last landed on grass and hoped to see us again. Well he did!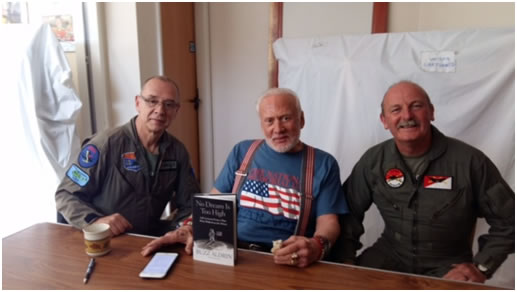 Unfortunately logistics prevented us from flying him into the venue in Huey 509 so Phil and I flew Loach011 into the College to offer our services as gofors/book porters/door attendants! (...and you don't often get those in full flight suits I might add!)
Needless to say, both Phil and I spent some time with Buzz in his Green Room prior to him taking to the stage to talk about his book 'No Dream Is Too High: Life Lessons From A Man Who Walked On The Moon'. [Many thanks to Elaine Silverwood for organising that for us!]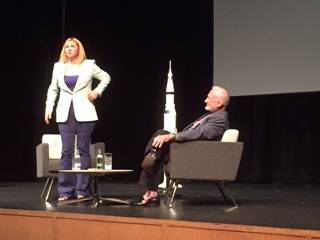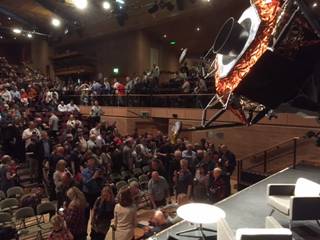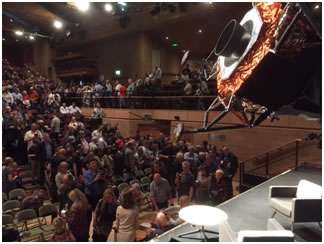 After the excellent and entertaining event, we departed before dark to land back at Huey Base at last light.
Overall, a superb evening and plenty of good memories of a true legend; one of only 12 who have walked on the surface of the Moon!
Thank you for entertaining us so well Dr Aldrin!