Latest News and Articles
Latest News > Waddington International Air Show 1 & 2 July 2006
Waddington International Air Show 1 & 2 July 2006
We were very pleased to be at this years show at RAF Waddington in Lincolnshire . It was one of the hottest weekends of the year and despite England playing in the World Cup, attracted record numbers of spectators! The estimate from the organisers is 120,000!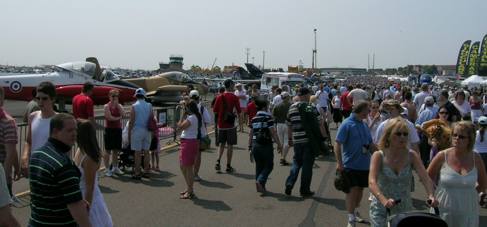 The Crowds
| | |
| --- | --- |
| The crew left home on the Friday morning and enjoyed a great flight down to Waddington. We have recently been in correspondence with the CAA regarding the military markings on the aircraft. We have to apply for permission to carry these US Army markings and in the meantime the CAA has insisted that we carry the UK registration number on the machine. Hence the huge letters in the windows! We apologise to all of you who were at Waddington on the Friday taking photos of the arriving aircraft. We know it spoilt your photos but we have to do as we're told!! At least we could remove the letters while the aircraft was on static display! | |
| | On Display |
The huey was positioned in the static display park beside a Royal Navy Sea King Helicopter and a Royal Navy Merlin.
We were kept very busy all weekend showing people around the huey, but we thoroughly enjoyed ourselves. It was great talking to so many people who have such genuine interest in the aircraft and her history. Check out the guestbook for the comments and please feel free to add some comments of your own!
Phil Neil & Huey on Display

We especially enjoyed showing the children around and telling them all about Vietnam and what the huey would have been used for. Neil especially brought the huey to life! He explained how the huey would have been used to carry troops in and out of the dangerous landing zones and how difficult it would have been for the pilots and how brave all those young men must have been.

Neil & a young recruit
Phil and Jo would like to thank Neil and Heather for joining us and for being such valuable members of the crew! We'd also like to thank the show organisers for allowing us to attend. We were made very welcome by everyone and the hospitality was great, especially the after-show party!

We're looking forward to next years show!! (30 th June and 1st July 2007 )