Latest News and Articles
Latest News > Sponsorship of the Griffin Trophy

Sponsorship of the Griffin Trophy at the Defence Helicopter School at RAF Shawbury - April 2014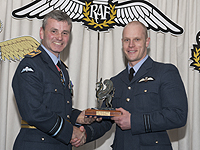 Phil Connolly of the Huey Team and MSS Holdings was proud to sponsor the Griffin Trophy which was awarded to Mark Robson at the Course Graduation on 25th April 2014.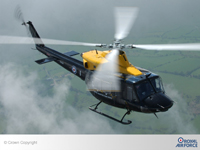 Sixty (Reserve) Squadron is part of the Defence Helicopter School at RAF Shawbury. The Squadron provides advanced multi engine helicopter training on the Bell 412 Griffin primarily to RAF aircrew prior to their conversion to operational types. On completion of the course pilots and crewmen are awarded their aircrew brevets. MSS Holdings sponsors the Griffin Trophy which is awarded to the course member who, in the opinion of the staff, has contributed to the spirit of Sixty Squadron and to the morale of the course whilst military ethos.
The winner of the trophy receives a tankard as a memento of their success. The winner of the Griffin Trophy for Number 141 Course was Flight Lieutenant Mark "Robbo" Robson. He was presented with the award by Air Vice Marshal Andrew Turner, Air Officer Commanding 22 Group, at the Course Graduation on 25 April 2014.