101st AIRBOURNE LRRP/RANGER LIVING HISTORY ASSOCIATION
The group was formed 3 years ago after Chris Gordon had been in touch with some Vietnam veterans. The group as it is today consists of 7 highly motivated individuals who have full respect for the men and women who fought and died in Vietnam.
| | | |
| --- | --- | --- |
| | | |
| | | |

It is the groups aim to portray the Rangers as they were in 1969-70 when they were L/75. All equipment and uniforms are original. The group is fully supported by the Veterans who fought in the unit. The LRPPs were the eyes and ears of the Army. They were inserted behind the lines by hueys in 6 man teams, where they lived and performed missions, usually lasting at least 5 days. The aim was to gather enemy intelligence without being seen or heard. They were so feared by the NVA that they were nicknamed "Men with painted faces"
| | |
| --- | --- |
| | |
| Richard Baker | Simon Garner |
Chris Gordon contacted us and asked if his group could come and see the huey and do a photo shoot with the entire group dressed in their army gear. They all came up on 12th August and spent a day taking photos of themselves with the huey.
It was a pleasure to meet them all. They all had a great day-check out the guest book for their comments!
You can find out more about them at;
http://www.lcompanyranger.co.uk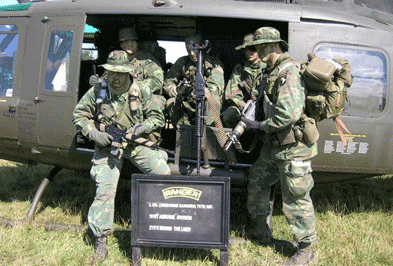 The Group