Plenty of interest was shown in 509 including some from folks who had flown Hueys. One of these had been in the Omani Air Force where Keith gained his Huey experience.
The slot time for 509 had now been pushed back to a point where if we flew the display we would possibly fail to make Halfpenny Green, our refuel stop, before it closed. Although saddened by this outcome the prudent course of action had to be taken as the Met Office was forecasting areas of heavy rain on our route which could further delay our progress. Sadly we therefore had to accept our refuel and depart in a gap in the display after the Vulcan had cleared the circuit.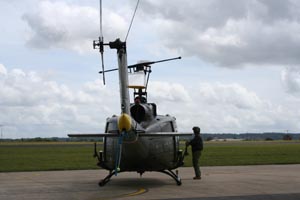 Keith flew the leg home, which was Odiham – Thruxton, to drop off our faithful support crew, then to Halfpenny Green for fuel before the final leg to Wesham. Although we did see areas of rain we were fortunate that none of these were on our track and our flight home was uneventful.
On arrival at Wesham, Phil, who was enjoying his temporary "batchelor" status as Jo was away on a cruise with her mother, met us to put 509 away. After a traditional "boys" curry night out Rob & Keith drove a hire car back to Thruxton the next morning to reclaim their own cars and head home.
In summary it was a shame that we lost our display slot but plenty of people had the opportunity of seeing Huey 509 "up close and personal" and the whole crew had a very enjoyable and fun day out.