Welcome to huey.co.uk
Here you will find everything you want to know about huey.co.uk and more. The history of the Bell UH1, the history of our UH1H, appearances, events, the team, photo gallery, shop, restoration and more.
Take a look at how the team has been put together, we reveal all the information, facts and the history of how we started and evolved to be a helicopter operator.
Keep up to date with the progress and latest news of our Huey UH-IH by visiting our regularly updated 'Latest News' and Events pages.
David Watson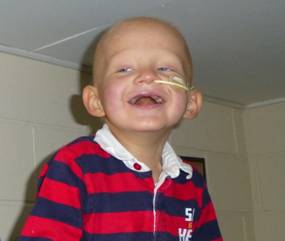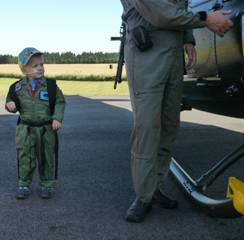 It is with great sadness that we learnt from his family that young David Watson Jnr has passed away. David lost his very brave battle with Neuroblastoma on Remembrance Sunday.
Back in August we introduced David on our page as our "Honorary Flight Crew Member" following the East Fortune 2013 Airshow.
Our thoughts and sincere condolences are with David's family and friends.
http://www.youtube.com/watch?v=AyxS6fm-_Ys&feature=share
Sound as a Bell

Introducing David Watson
Huey 509 Honorary Flight Crew Member

BITE AND STRIKE books back in stock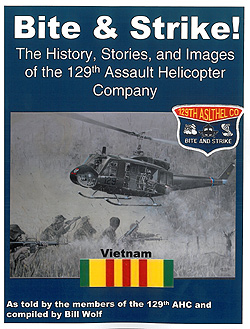 326 pages of history, stories and images – now in full colour - as told by the members of the 129th AHC and compiled by 129th veteran Bill Wolf.
Our Huey supported the troops of 129th AHC and we are extremely proud to offer this book for sale in our shop.
The foreward by Bill Wolf begins:
'Over three decades ago the men of the 129th Assault Helicopter Company spent a part of their youth in the distant southeast Asian country of Vietnam in an unpopular war. Helicopter casualties accounted for 10% of the fatalities. Thirty nine members of the 129th did not return. For those that did return, each had to deal with the impact of these losses physically and emotionally.'
What follows is a moving record of personal accounts and photographs from members of the 129th of their time in Vietnam at work and during their time out. Also featured are stories and poems; some humorous, some sad, all extremely moving.
The original publication featured black and white photographs – they are now in full colour.
As Bill Wolf comments ' Many of these stories and poems reflect the history of the 129th as much as the 'official records' for they offer an insight into the mind of those who have witnessed much. They reflect the daily lives of the crews, their experiences, their tragedies and their honour'.

http://www.huey.co.uk/hueyshop/index.php?productid=1703
AVIATION ARTWORK
The HUEY team are delighted to include on our website the artwork of two extremely gifted artists from the United States, both Vietnam veterans themselves. Phil first saw the artwork of Joe Kline and Paul Fretts displayed at Fort Rucker, the United States Army Aviation Museum in Alabama. We think their work is stunning and we are sure you will too. Please read the biographies, take a look at the prints and enjoy them and think about how wonderful they will look in your home - or maybe buy one as a gift for someone. We would love to hear your comments!
| | |
| --- | --- |
| Joe Kline | Paul Fretts |
To view the artwork of these brilliant artists click here

THE FUTURE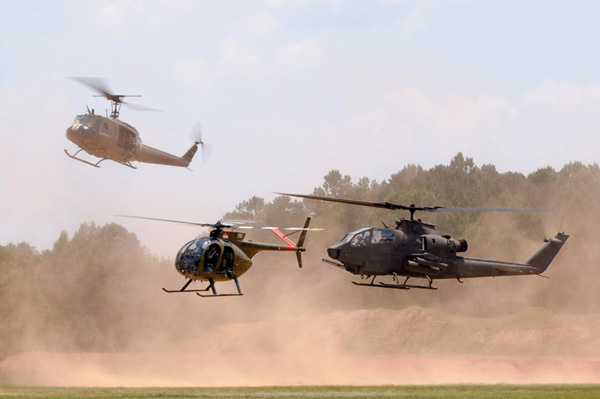 Huey Shop
Come and visit our Huey shop, which contains a stunning array of products, directly marketed at the Bell 'HUEY' UH IH. Browse our online shop at your leisure and if you find something of interest, why not make a purchase.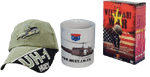 MISS SAIGON – IN LYTHAM ST ANNES!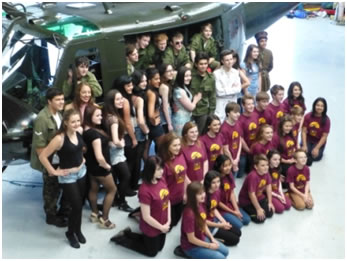 129th Air Assault Helicopter Company
This is where it all began for HUEY 509. To visit the website click below:

Appearances and Events
The Huey will be available as a static display and flying display, subject to CAA approval as and when requested at the following events and shows around the country.


Huey Photo Gallery
Visit our photo gallery where we have a superb range of photographs showing the Huey at its best..



Associations
We are proud to be members of