Welcome to huey.co.uk
Here you will find everything you want to know about huey.co.uk and more. The history of the Bell UH1, the history of our UH1H, appearances, events, the team, photo gallery, shop, restoration and more.
Take a look at how the team has been put together, we reveal all the information, facts and the history of how we started and evolved to be a helicopter operator.
Keep up to date with the progress and latest news of our Huey UH-IH by visiting our regularly updated 'Latest News' and Events pages.

Captain John O'Sullivan Commemoration & Helicopter Fly-In - Listowel, Ireland. Saturday 29th April 2017
In conjunction with the Listowel Military Tattoo, Listowel Town & County Kerry will be remembering one of its own, Captain John I. O'Sullivan, a truly distinguished military & civilian helicopter pilot.
The commemoration will be attended by many of John's family & aviation friends, including several Viet Nam veterans. To this day, John remains the second most highly decorated US Army Aviator!
John's Military Career
Tralee native Captain John O'Sullivan- Helo pilot with the 174th Aviation Company, US Army, was one of the most highly decorated combat pilots in US Army Aviation.
1 DSC,
6 DFC
5 Purple Heart
3 Bronze Star
3 Silver Star
42 Air Medal
Distinguished Service Cross
Awarded for actions during the Vietnam War
The President of the United States of America, authorised by Act of Congress, July 9, 1918 (amended by act of July 25, 1963), takes pleasure in presenting the Distinguished Service Cross to Second Lieutenant (Infantry) John I. O'Sullivan, United States Army, for extraordinary heroism in connection with military operations involving conflict with an armed hostile force in the Republic of Vietnam, while serving with 174th Aviation company, 14th Aviation Battalion, American Division. Second Lieutenant O'Sullivan distinguished himself while serving as fire team leader of a helicopter gunship team flying in support of allied operations near Quang Ngai. Although under a continuous hail of enemy automatic weapons fire, Lieutenant O'Sullivan led an aggressive attack on three companies of enemy soldiers that were entrenched in a Vietnamese village. Repeatedly exposing his aircraft to intense enemy automatic weapons fire, he eliminated four enemy soldiers and destroyed two enemy bunkers. His aircraft was then shot down by intense enemy fire as he descended to a low altitude to provide cover fire for another downed friendly helicopter.
After surveying the damage to his downed ship, Lieutenant O'Sullivan returned to the cockpit and flew the crippled craft to a nearby air strip. He then obtained another gunship and returned to the area to take command of the fire team. While covering the recovery of the downed helicopter, he eliminated five more of the enemy. Responding to an urgent appeal for assistance from another allied unit, he again braved intense fire as he assaulted three enemy machine gun positions. During this encounter, his gunship was damaged by enemy fire. Undaunted, he continued his aggressive assault, destroyed the enemy machine gun positions, and completely routed the enemy force. Second Lieutenant O'Sullivan extraordinary heroism and devotion to duty were in keeping with the highest traditions of the military service and reflect great credit upon himself, his unit, and the United States Army.
Follow the Huey Project on Facebook Page- "The Listowel Huey – "Nothing Impossible"
Also attending for the whole weekend - the UK Huey '509'
LOCATION: Listowel Racecourse, Listowel, County Kerry, Ireland
DATE: Saturday 29th April 2017 starting 12.00 local
ORGANISOR: Padrigh Nolan +353 85 846 0046 alphamodelcraft@gmail.com
MEDIA CONTACT: Joe McDermott Media@GlobalFBOconsult.me
Sponsorship of the Griffin Trophy at the Defence Helicopter School at RAF Shawbury – Course 159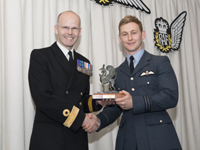 Phil Connolly of the Huey Team and MSS Holdings (UK) Ltd is proud to sponsor the Griffin Trophy at the Defence Helicopter School at RAF Shawbury.
The winner of the Griffin Trophy for Number 159 Course was Lieutenant Ben Lilley RN. He was presented with the award by Air Marshal Sean Reynolds CBE DFC RAF, Deputy Commander Capability and Air Member for Personnel and Capability, at the Course Graduation on 6 January 2017.
Sixty (Reserve) Squadron is part of the Defence Helicopter School at RAF Shawbury. The Squadron provides advanced multi engine helicopter training on the Bell 412 Griffin primarily to RAF aircrew prior to their conversion to operational types. On completion of the course pilots and crewmen are awarded their aircrew brevets. MSS Holdings sponsors the Griffin Trophy which is awarded to the course member who, in the opinion of the staff, has contributed to the spirit of Sixty Squadron and to the morale of the course whilst maintaining the military ethos.

AVIATION CLASSICS – Issue number 27 out now!!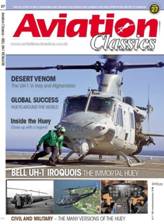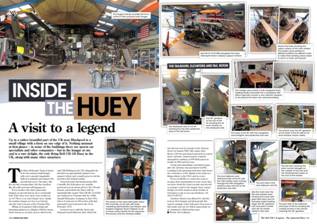 Exciting news for all our Huey Fans!! Huey 509 is featured in the current edition of Aviation Classics which was released for sale on the 5th March 2015. The whole edition is dedicated to the Bell Huey and there is 12 page article on our very own Huey 509. The photographs were taken by the Aviation Classics team during a visit to our hangar in the autumn of 2014 and include shots of the internal sections which are normally only accessed by the pilots or the maintenance teams. The article gives a detailed technical and historical description of our helicopter and is available now at a RRP of £7.99 from stockists such as WHSmiths or from Aviation Classics direct. For more information please visit the Aviation Classics website www.aviationclassics.co.uk where you can find out details of all previous issues, purchase a digital copy of any of the issues or take advantage of an Aviation Classics subscription package.

NEW BOOK IN STOCK!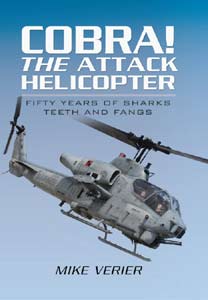 The Spitfire of helicopters, Bell's AH-1 was the world's first Attack helicopter. Born as an 'interim' type during the Vietnam War it has remained in continuous front- line service and production ever since – an unequalled record.

This fully illustrated volume charts the ubiquitous 'Snake' in detail from its earliest inception through to the awesome AH-1Z 'Zulu' now deployed.

The author's long and close involvement with the Cobra community is fully reflected in a rich and informative narrative that gives this iconic aircraft the spotlight it so clearly deserves as its 50th anniversary approaches.

Cobra! The Attack Helicopter
Mike Verier
Buy it now in the Huey Shop
£20 (+£2.50 UK p&p)
HUEY 509 FLYING DISPLAY



This footage was taken at the Heart of Scotland Airshow, Perth Airport, Scone in 2010 and features here with the kind permission of Malcolm Auld.
BITE AND STRIKE books back in stock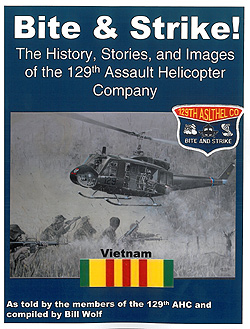 326 pages of history, stories and images – now in full colour - as told by the members of the 129th AHC and compiled by 129th veteran Bill Wolf.
Our Huey supported the troops of 129th AHC and we are extremely proud to offer this book for sale in our shop.
The foreward by Bill Wolf begins:
'Over three decades ago the men of the 129th Assault Helicopter Company spent a part of their youth in the distant southeast Asian country of Vietnam in an unpopular war. Helicopter casualties accounted for 10% of the fatalities. Thirty nine members of the 129th did not return. For those that did return, each had to deal with the impact of these losses physically and emotionally.'
What follows is a moving record of personal accounts and photographs from members of the 129th of their time in Vietnam at work and during their time out. Also featured are stories and poems; some humorous, some sad, all extremely moving.
The original publication featured black and white photographs – they are now in full colour.
As Bill Wolf comments ' Many of these stories and poems reflect the history of the 129th as much as the 'official records' for they offer an insight into the mind of those who have witnessed much. They reflect the daily lives of the crews, their experiences, their tragedies and their honour'.

http://www.huey.co.uk/hueyshop/index.php?productid=1703

THE FUTURE