Welcome to huey.co.uk
Here you will find everything you want to know about huey.co.uk and more. The history of the Bell UH1, the history of our UH1H, appearances, events, the team, photo gallery, shop, restoration and more.
Take a look at how the team has been put together, we reveal all the information, facts and the history of how we started and evolved to be a helicopter operator.
Keep up to date with the progress and latest news of our Huey UH-IH by visiting our regularly updated 'Latest News' and Events pages
Ordering in time for Christmas
All UK delivery orders must be placed before 2pm GMT on Friday 19th December to meet the Royal Mail last recommended posting dates.

From the home of HUEY 509 and LOACH 011
Browse online at www.huey.co.uk/shop to see our whole range.
or
Click on the pictures below to find out more about our featured products.
NEW PRODUCTS!!
STOCKING FILLERS!!
CHRISTMAS PRICE REDUCTIONS ON SELECTED ITEMS!!
Best wishes from the Huey Team!!


Sponsorship of the Griffin Trophy at the Defence Helicopter School at RAF Shawbury – November 2014
Phil Connolly of the Huey Team and MSS Holdings was proud to sponsor the Griffin Trophy at the Defence Helicopter School at RAF Shawbury.

The winner of the Griffin Trophy for Number 145 Course was Sergeant Pat McHugh. Sergeant McHugh is pictured below with Air Vice Marshal Andrew Turner, Air Officer Commanding 22 Group, at the Course Graduation on 28 November 2014.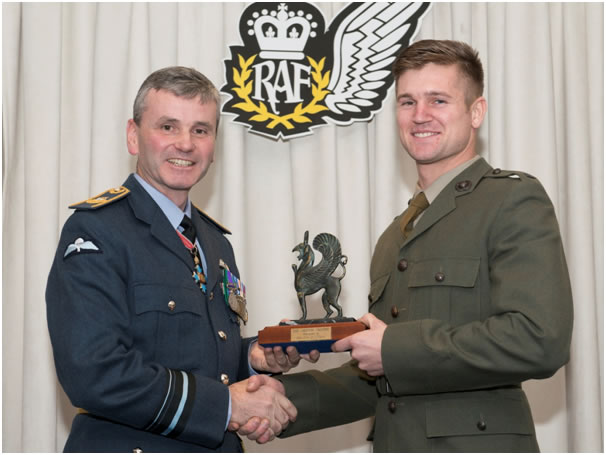 Huey 509 and Loach 011 at RAF Waddington International Air Show 2014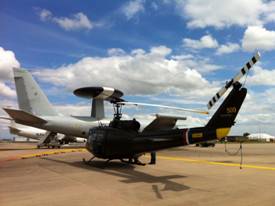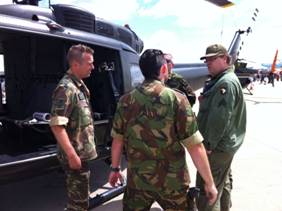 For the third year on the trot our team headed to Lincolnshire for the annual RAF Waddington Air Show. Logistics dictated three crews setting off at different times and indeed days, to all converge in one place. Read Full Report
European Air Show Council Meeting Antwerp
March 2014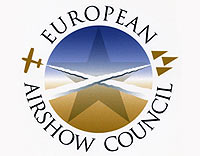 Phil, together with our Chief Pilot Neil Airey and Loach Pilot Dick Barton attended the EAC Convention in Antwerp on 20th- 22nd March and Neil has kindly put together this report on the event.

Three members of the Huey team drove to Antwerp for this 3 day event with the aim of attending the seminars and profiling the huey.co.uk air show helicopters to the various multi-national representatives attending. Read Full Report

NEW BOOK IN STOCK!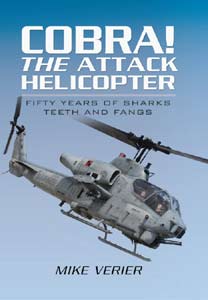 The Spitfire of helicopters, Bell's AH-1 was the world's first Attack helicopter. Born as an 'interim' type during the Vietnam War it has remained in continuous front- line service and production ever since – an unequalled record.

This fully illustrated volume charts the ubiquitous 'Snake' in detail from its earliest inception through to the awesome AH-1Z 'Zulu' now deployed.

The author's long and close involvement with the Cobra community is fully reflected in a rich and informative narrative that gives this iconic aircraft the spotlight it so clearly deserves as its 50th anniversary approaches.

Cobra! The Attack Helicopter
Mike Verier
Buy it now in the Huey Shop
£20 (+£2.50 UK p&p)
HUEY 509 FLYING DISPLAY



This footage was taken at the Heart of Scotland Airshow, Perth Airport, Scone in 2010 and features here with the kind permission of Malcolm Auld.
BITE AND STRIKE books back in stock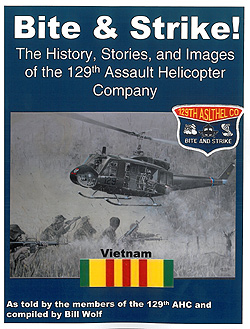 326 pages of history, stories and images – now in full colour - as told by the members of the 129th AHC and compiled by 129th veteran Bill Wolf.
Our Huey supported the troops of 129th AHC and we are extremely proud to offer this book for sale in our shop.
The foreward by Bill Wolf begins:
'Over three decades ago the men of the 129th Assault Helicopter Company spent a part of their youth in the distant southeast Asian country of Vietnam in an unpopular war. Helicopter casualties accounted for 10% of the fatalities. Thirty nine members of the 129th did not return. For those that did return, each had to deal with the impact of these losses physically and emotionally.'
What follows is a moving record of personal accounts and photographs from members of the 129th of their time in Vietnam at work and during their time out. Also featured are stories and poems; some humorous, some sad, all extremely moving.
The original publication featured black and white photographs – they are now in full colour.
As Bill Wolf comments ' Many of these stories and poems reflect the history of the 129th as much as the 'official records' for they offer an insight into the mind of those who have witnessed much. They reflect the daily lives of the crews, their experiences, their tragedies and their honour'.

http://www.huey.co.uk/hueyshop/index.php?productid=1703

THE FUTURE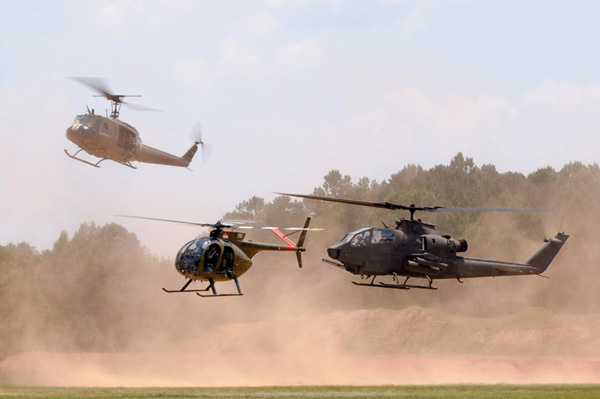 Huey Shop
Come and visit our Huey shop, which contains a stunning array of products, directly marketed at the Bell 'HUEY' UH IH. Browse our online shop at your leisure and if you find something of interest, why not make a purchase.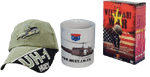 129th Air Assault Helicopter Company
This is where it all began for HUEY 509. To visit the website click below:

Appearances and Events
The Huey will be available as a static display and flying display, subject to CAA approval as and when requested at the following events and shows around the country.


Huey Photo Gallery
Visit our photo gallery where we have a superb range of photographs showing the Huey at its best..



Associations
We are proud to be members of