Welcome to huey.co.uk
Here you will find everything you want to know about huey.co.uk and more. The history of the Bell UH1, the history of our UH1H, appearances, events, the team, photo gallery, shop, restoration and more.
Take a look at how the team has been put together, we reveal all the information, facts and the history of how we started and evolved to be a helicopter operator.
Keep up to date with the progress and latest news of our Huey UH-IH by visiting our regularly updated 'Latest News' and Events pages.
HUEY 509/LOACH 011 HELICOPTER HANGAR OPEN DAY
We had so many positive comments following our Open Days last year that we are delighted to announce our pre-season Open Day on Saturday 1st June 2013.

This is a great opportunity to visit the hangar and learn the history of these iconic helicopters, see memorabilia of both these and other aircraft and view footage of the restoration process and the moment our helicopter was reunited with some of its original pilots from the Vietnam war.

You will be able to examine the aircraft up close and our crew will be on hand to answer questions. You will be very welcome to take photographs and sit in the cockpit.

Should you wish to purchase a souvenir of your visit, our Huey shop will be open – take a look at our website shop to see what is on offer.

Admission is by advanced ticket purchase only as numbers are restricted. Please apply on-line at www.huey.co.uk/shop

Adults £5.00
Children (16 & under) £3.50
The Legend ... Bell Huey
Read the article about the Huey in Bell Helicopter's quarterly magazine RotorBreeze.
AVIATION ARTWORK
The HUEY team are delighted to include on our website the artwork of two extremely gifted artists from the United States, both Vietnam veterans themselves. Phil first saw the artwork of Joe Kline and Paul Fretts displayed at Fort Rucker, the United States Army Aviation Museum in Alabama. We think their work is stunning and we are sure you will too. Please read the biographies, take a look at the prints and enjoy them and think about how wonderful they will look in your home - or maybe buy one as a gift for someone. We would love to hear your comments!
| | |
| --- | --- |
| Joe Kline | Paul Fretts |
To view the artwork of these brilliant artists click here


THE FUTURE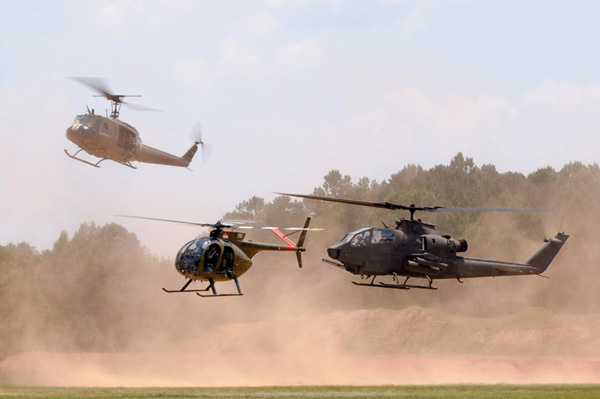 HUEY 509 & Loach 11 Weekend Fundraising Event
We operate the Bell 72-21509 at UK Air shows, both Civilian and Military, including attending open days at aircraft museums and military veterans parades. In addition we also attend charity events for organizations such as the Air Ambulance and Mountain Rescue Teams.
Watch HUEY 509 in action at East Fortune Air Show

This video was kindly supplied by Alan Brown who attended the East Fortune Air Show and captured this amazing footage of HUEY 509 doing what she does best.
FORT RUCKER BIDS FAREWELL TO THE HUEY
In what can only be described as a sad day, Fort Rucker has announced the official retirement of all HUEYs in future military operations. This momentous occassion took place on 17th May 2011 at Cairns Army Air Field. Hundreds of people gathered to watch this moving retirement ceremony for the Huey, which has enjoyed a military career in excess of 50 years.
When you hear Major General Anthony Crutchfield (Commanding General USAACE and Fort Rucker) refer to the occassion as 'a family reunion to say goodbye to a family member', you get a deep feeling for how much this helicopter meant to all those pilots and soldiers who flew in the HUEY during Vietnam and subsequent military conflicts thoughout the world.
The Huey was first introduced in 1959 with around 7,000 taking part in the Vietnam conflict. Since then around 16,000 have been produced in total serving all around the world. The HUEY truly has a place in the military history books as one of the finest war machines ever to serve in military combat.
To quote Larry Castagneto's poignant words when talking about the HUEY, She is alive, She has a life of her own and She has been a lifelong friend. HUEY 509 will carry on flying to keep this memory alive for many years to come.
To view the Fort Rucker article click here

Aviation Artwork
The HUEY team are delighted to include on our website the artwork of two extremely gifted artists from the United States, both Vietnam veterans themselves..


129th Air Assault Helicopter Company
This is where it all began for HUEY 509. To visit the website click below:

Appearances and Events
The Huey will be available as a static display and flying display, subject to CAA approval as and when requested at the following events and shows around the country.


Huey Photo Gallery
Visit our photo gallery where we have a superb range of photographs showing the Huey at its best..



Latest Updates

Find out which of our crew has shed it all for charity Here!!!

We have added the 129th Aviation Company History on to the site. You can find it Here

We have new sounds on the Media Audio section Click Here

Associations
We are proud to be members of