Kirkbride Fly-in 13th June 2015
We were very pleased to accept an invitation to attend Kirkbride Fly in with Loach 011.
Pilot Dick Barton tells us about the day;
During the Second World War RAF Kirkbride was primarily a maintenance unit and served as a gateway between aircraft manufacturers and front line units. Being out of reach of most enemy bombers it had no frontline squadrons assigned and a mostly civilian staff. For a short while my mother was stationed there as a WAAF Wireless Operator and my father flew from there a few times before he went off to Canada to live the life of Riley instructing RAF and Fleet Air Arm pilots going through the British Commonwealth Air Training Plan. I remember as a boy him taking me to Kirkbride to watch the model aircraft flying so when the chance came to do a static display there I jumped at the chance.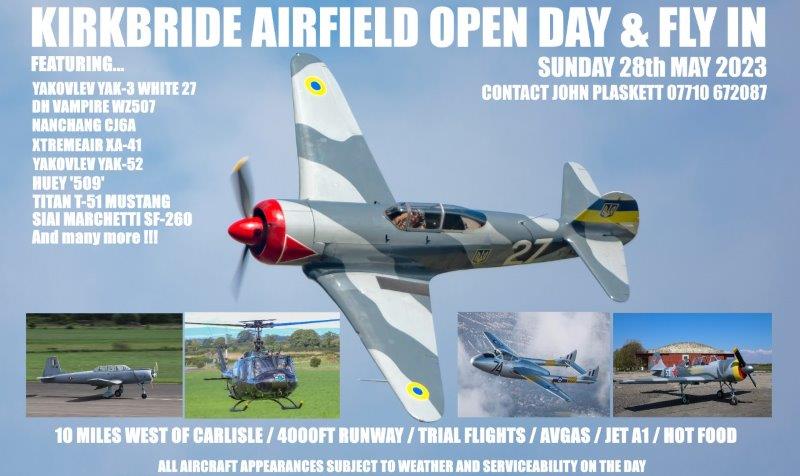 Crewed with my trusty Crew Chief Bradley, the cloudbase was too low to fly directly to Kirkbride from Wesham but the weather looked ok to take the route up the M6 and A6 to Penrith before cutting across to Kirkbride. The trip was largely uneventful with the lowest cloud at about 700ft over Shap Fell not causing any problems but navigation was a little interesting. We had an Easterly wind and Bradley's navigation was really good but we kept drifting off to the right of track and on cross checking the gyro compass against the standby compass revealed a difference of up to 30° at times. After a bit of head scratching the penny dropped – we had decided to take the M60 machine gun to display in the door and had strapped it across the rear seat and that big bit of metal was affecting the gyro compass detector. Strapping it vertically for the return trip solved the problem!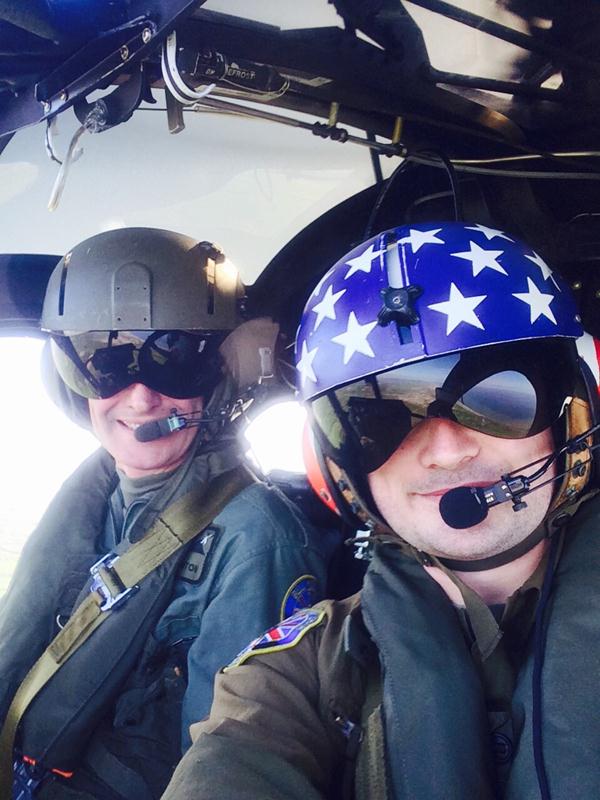 We arrived at the airfield, did a quick flypast to orientate ourselves and then parked the "Little Bird" next to the line of autogyros belonging to the flying school and visitors to the open day. Although the attendance wasn't as large as hoped for it was a good event and Loach 011 was a great attraction and very much the star of the show. Some large gas turbine powered radio control scale helicopters were displayed very well, aerobatics from a biplane added a bit of lunchtime interest, and the autogyros were busy all afternoon doing trial flights. Bradley and I were both given a flight by the organizer Chris Jones and although I was a little apprehensive at first we both had a great time. The techniques are very different to flying a helicopter but it was a fun experience. There was also a chance for me to catch up with some of my family who live nearby, although I wasn't quite sure of what to make of by brother's return in the afternoon dressed as a cross between Rambo and Fred Scuttle!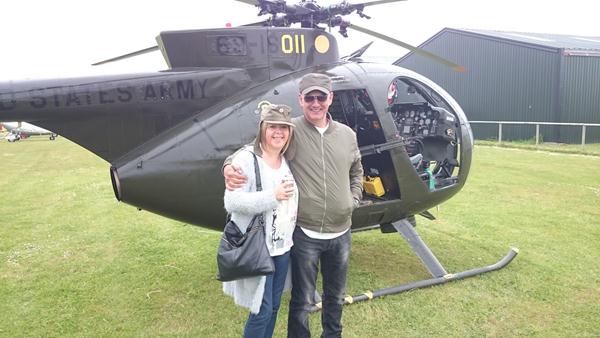 As the event wrapped up we made a bee-line to do a static display at St Bees School where Simon and Nina were attending a reunion. Again the Loach and its history sparked lots of interest and some of the party had to be almost dragged away to get spruced up for the next event. Airborne again we had a nice evening run down the West coast, past Sellafield and Carnforth, and back to Wesham with the compass working perfectly and Bradley's navigation spot on. Overall another good day out and successful outing for the Loach.
Many thanks to Chris Jones for organising the fly in!