Another glorious return to Portrush! Huey 509 and Loach 011 were invited to return to the Northern Ireland International Air Show at Portrush on 31st August and 1st September 2013.
The Huey crew, Keith Thomas and Rob Tierney and the Loach crew, Dick Barton and Bradley Johnson gathered at the hangar to prepare for departure together.
See Bradley here doing a fine job on the tractor!



And here – ready to go!
Our Huey Pilot, Keith Thomas continues the account of the weekend:
Both aircraft departed for Northern Ireland and crossed the Irish Sea to Newtonards in formation. As usual the weather en-route was worse than forecast with a very strong headwind but the trip was uneventful. After a refuel for the Huey we then departed for a microlight strip and seaplane base where the aircraft were left overnight. Rob had arranged a portable refuel supply which worked very well; the local Pilots were very friendly and could not have been more helpful.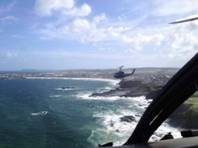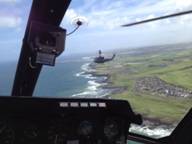 The beautiful coastline of Northern Ireland and our two Loach crew - Pilot Dick Barton, on the left and Bradley Johnson looking very cool and relaxed.
We were very well catered for as always - accommodation was by the usual hosts at the Adelphi Hotel in Portrush, a hire car was supplied for crew transport each day and the food and Guinness were to a high standard!
We had a 10 minute display slot each day and both helicopters were parked on tennis courts on a headland at Portrush all day so that the public could view them at very close quarters. This was very popular and the security staff did an excellent job of controlling the numbers inside the tennis courts as there was a huge queue of people patiently waiting to see the aircraft.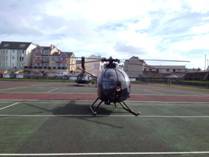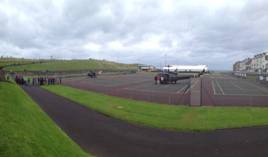 The displays went well and we performed formation passes along the display line and solo wingovers over the bay.
On Sunday at the end of the Flying Displays, to mark the 90th year of the Royal British Legion there was a beach parade and Huey 509 was honoured to be invited to perform the Poppy Drop over the parade.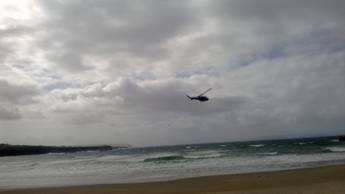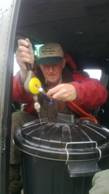 Huey above a stormy sea on the Sunday – and Rob making some modifications to a dustbin in preparation for the poppy drop!
Afterwards we headed over to join the Loach for a refuel and the transit home to Wesham via Newtonards - this time with an excellent tailwind.
The aircraft performed flawlessly and all crews had a most enjoyable weekend.
Our thanks go to Jeff Brownhut, his team and all at the Northern Ireland Airshow for their hospitality and the lovely people of Northern Ireland for another memorable weekend.